Your Technology Partner for Growth. Give us a Call at +30 210 6971900
PAYPAL INTEGRATION CHALLENGE – GREECE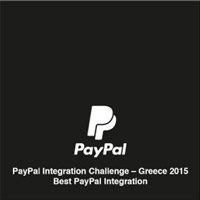 Are you ready to show what you are capable of? It's time to showcase your best PayPal integrations!
PayPal has recently launched 'PayPal Integration Challenge 2015', the first competition for Magento Community Agencies and Developers in Greece.
Take this challenge and submit a case study in which you integrated PayPal Express Checkout into a Magento Community webshop.
What you need to do:
Attach two screenshots of the merchant's webshop (opening page and payment summary page which indicates the presence of PayPal), send us the weblink of the merchant and send all of these to [email protected] not later than 30th of June 2015.
You can send more integration case studies. The more applications you submit the bigger chance you have to take the main title.
The finest application will selected as the 'Best PayPal Integration – Greece 2015' and the winner can keep this title for the next 12 months. The winning company will be exclusively recommended by PayPal for integrations in Greece and other Central Eastern European countries.
For more details of the application and the selection criteria, please read our short Terms and Conditions document.